To get started on HubSpot, there are three ways to get onboard: HubSpot onboarding, BBD Boom onboarding, or self onboarding.
Have you just purchased HubSpot and now wondering 'how on earth am I going to upskill myself in order to use and optimise HubSpot effectively?'. Just know you're not the only one and there are probably many people out there who are also in the same boat as yourself.

But don't worry, we have a couple of solutions to help you through your HubSpot journey!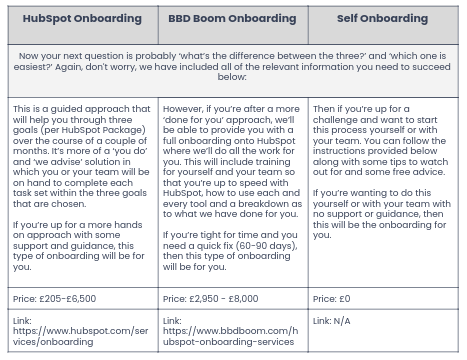 So if you've chosen the 'Self Onboarding' route then follow the instructions below to help you get started:
Make sure you and your team are able to log into HubSpot - This is to make sure that everyone in your team/business who needs access to HubSpot is able to log in and has the correct permissions for their particular role. This can be done under the Settings icon in the top right hand corner of your screen. Then from the options on the left hand side, click on Users & Permissions. Go through each user's permissions and grant them access to tools in which they will need/use for their job role.


Locate to the 'Projects' tool under Marketing > Planning & Strategy - This is where HubSpot have pre-listed tasks for you to complete to help learn about the different tools you have available on your package. Each task will come with a set of instructions, a link to where you can find the tool and videos available for further learning.


Click on Project Templates from the three tabs at the top - Here you'll find a huge list of projects in which you can choose from. Our recommendation is, depending on your package, to type in either:
> Marketing Goal
> Sales Goal
> Service Goal
> CMS Goal
Using the goals that appear from your search (do this multiple times if you have more than one HubSpot package) click on a goal that you think matches your current business goals.

The main overall goal is to integrate as much of your tech stack as possible and implement as many of your sales/marketing/service strategies and processes.


Pick up to 3 goals (per HubSpot package) to help you get started - This will include a list of tasks for you to check off each week. We would advise that you set yourself a number of tasks you want to complete each week, so this way it doesn't look unmanageable and overwhelming.


If you get stuck, don't forget you have access to the HubSpot Academy - This is a huge library of all the videos you could imagine. These videos will help teach and advise on how to use each HubSpot tool along with how you can apply strategies between them.


Once you're done, try teaching other users within HubSpot if they require any extra help - Again, feel free to reach out to us for further support if you feel you need it, even if that's just a bit of extra training or support in getting your strategies and processes up and running.