Using the anchor tool, you are able to create an action so when a user clicks a CTA, they will be taken down to a lower section of the same landing page.
Navigate to Marketing on the top menu bar, and select Landing pages from the drop down menu. Hover over the name of the landing page you want to edit, and click Edit.
Select the section of the landing page which you want the user to be navigated to, which will open up the editor on the left hand side. In the content section of the editor, click Insert and select Anchor from the menu. Name the anchor with a memorable name, with a dash in between if the name will be more than one word.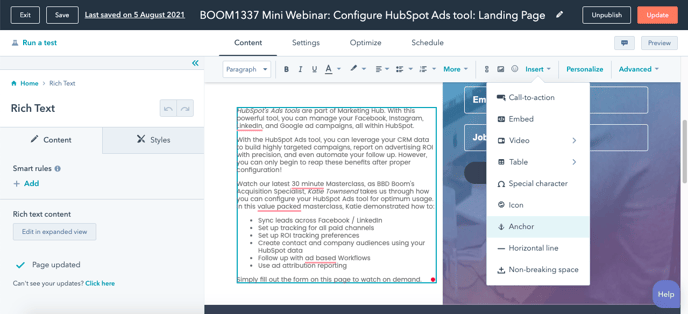 Select the section where the CTA or button is you want the users to click to anchor down, to open up the editor.
Click the Left/Right Button editor, and under the Link to option, select External. In the URL section, insert the name of the anchor exactly how it was saved, with a hashtag (#) in front of it. The same steps will be followed when inserting a CTA.