HubSpot has the ability to associate contacts with companies automatically by using a contacts email address and the company's domain name.
Click the Settings icon on the top right of the main navigation bar.
On the left hand side, under the Data Management section, select Objects. From the drop down menu, select Companies.
Select the checkbox that states Create and associate companies with contacts.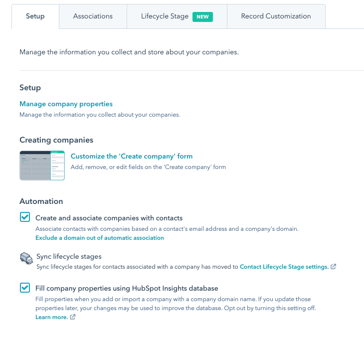 If you don't want your contacts to automatically associate with any companies in particular, you can exclude a certain domain to stop association.
Following all the steps above, click on Exclude a domain out of automatic association.
Enter the domain name you do not want to associate.
Click Save.