In the navigation bar, hover over Reports, then click Reports. When there, click Create Custom Report
Custom reports in Hubspot are great for monitoring progress for your campaigns and internal processes.
Sometimes the default reports in HubSpot do not display the data you want to see. This is where custom reports come in.
You can create a variety of different custom reports. Head over to Reports > Create Custom Report:
Single object - Use this when you only have one object to report on ie Contacts, Companies, Deals, Activities, Tickets, Products or Feedback submissions.
Cross object - Use these reports when you need to report across two dimensions such as Contacts and Deals.
Funnels - Use this report if you want to report through the process of a Contact, Deal or Event funnel.
Attribution - Use this report to see what interactions drove revenue in your HubSpot portal.
After you have selected the objects you want to report on, click Next. At the top of the page, click the name to edit the report. In the left panel, click Add Property to browse and select the properties you want to report on.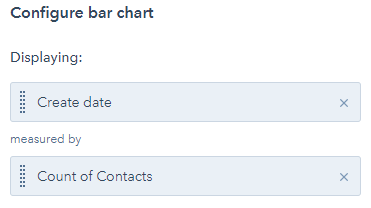 Once you have selected the properties you want to report on, simply drag and drop the ones into the column on the right. The filter column in the top right allows you to filter your reports even further to drill down into the relevant information you want to see. Some common filters we use include date ranges.

All reports must contain one filter whether that is 'create date all time' to show all data in your report.
Next, choose the visualisation tab to see the different chart options for your report. This includes: bar charts, line graphs, pie charts and tables. This will depend on how you want to present your information.
The 'Display options' allows you to hide data labels where necessary, show row totals, add a stacked column, and even compare data ranges for your report.
Lastly, HubSpot gives you the ability to save the report and add it to a dashboard or export the report in the form of a CSV document. The report will be emailed to you by clicking Export and choosing the file type.