Task queues are used to complete tasks one after another automatically, often organised by importance and due date.
Click on Sales from the main navigation bar, and select Tasks. On the right hand side of the tasks menu, select + Add queue.
Give the queue a name, and assign users to complete the tasks. If you are using Sales/Service Hub Professional or Enterprise, you can invite other people to join the task queue.
You can either add a task to a queue by:
Click Create Tasks and select the correct task queue from the Queue dropdown menu.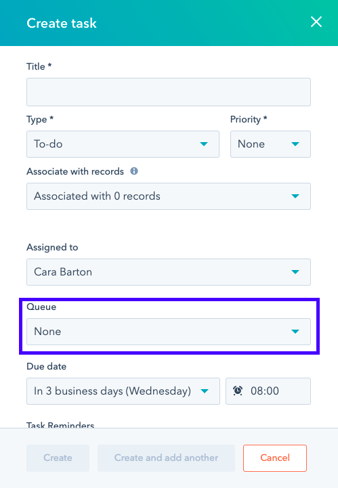 Select the checkboxes next to the tasks you want to put into the queue, and click + Change queue and select the correct tasks queue.

To start the task queue, click Start Tasks and you'll be taken straight to the associated record with the tasks.
You can then manually select to complete the tasks by clicking Complete from the task queue menu at the top of the page. You can also choose for the task to automatically be completed once an email is sent. Once in the email editor, from the
down arrow, select Send and complete the task.