Using the settings editor, you are able to customise what properties show when you are setting up a new object record. This can be done for contacts, companies, deals or ticket records.
Click the Settings icon from the top right hand corner of the main navigation page, and under Data Management on the left hand side, select Objects. You can then select either Contacts, Companies, Deals or Tickets.
Once you have opened the desired object editor, ensure you have selected the Set Up tab from the top of the page. Under Contact creation, click on Customize the 'create contact' form (which will be specific to the object you are editing).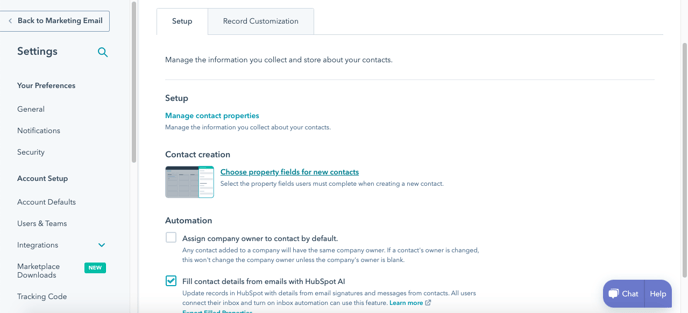 In the editor, you are able to search for the desired properties you would like to show, selecting the checkboxes to add them to the new record. You can then use the dots next to the properties to arrange them into a certain order, click the X to delete a property, or click the checkbox on the right hand side of the property to make one of the properties required when setting up a record.