In your HubSpot portal, locate Marketing > Planning and Strategy > SEO. After clicking the SEO page, you will be directed to SEO Recommendations and Topics.
The HubSpot SEO tool serves as a way to improve the performance of your website content in the search engine. HubSpot breaks SEO down into multiple categories to help you with your strategy.
Where can I locate the HubSpot SEO tool?
In your HubSpot portal, locate Marketing > Planning and Strategy > SEO. After clicking the SEO page, you will be directed to Recommendations and Topics.

Topics
Topic clusters act as the main hub of content, where you can use a single pillar page to link out to multiple pages of content that are all related to the main topic. The purpose of this is to tell search engines the main pillar page has authority on a topic. The internal links from the main page will help the main page rank higher in search engines over time.

How do I create a Topic cluster?
Firstly, you will need to audit the content you have on your website and group them in the topics related to your business. Once you have analysed all content, create separate pillar pages for each topic. This should contain all of the main aspects in a single page and link out to the more detailed pages.
Click Add Topic. Hubspot will recommend some topics. The recommendations will contain estimated monthly search volumes. The higher the monthly search volume for a key topic, the more traffic the search terms get on a monthly basis. This may also indicate they are more competitive and will therefore take longer for your pages to rank higher in the search results.
Click Create Topic.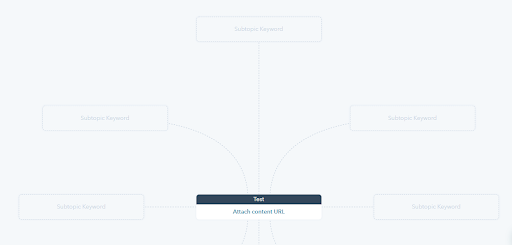 Attach the main pillar page via the Attach content URL button. From there, you will need to create subtopic keywords to link off from the main pillar page. The next important step is to make sure all pages have internal links back to the pillar page.
When the subtopic has been correctly linked to the pillar page, the connector will turn green. If the connector is still red, double check the internal links have been published and click the Check Link button.

Over time, you can add to your Topic clusters which will contribute to the SEO of your content.
Recommendations
The SEO recommendations page helps you identify and fix your current SEO issues for all of the domains hosted in your HubSpot portal.

Click View Recommendations to view all of the pages that have SEO recommendations, along with the reasons. We recommend creating a plan to work through each of the recommendations, organised by importance.