Under the 'Marketing' drop down in the navigation bar, the campaign feature is under 'Strategy and Planning'.
HubSpot's campaign feature allows you to track the performance of your marketing campaigns and manage all your assets from across HubSpot in one place.
To locate the campaign feature within HubSpot in the navigation bar of your HubSpot portal go to marketing. When the drop-down appears go to planning and strategy, then select campaign.
Once you're within the campaign section click the button on the right-hand side named create campaign you'll be pointed to name your campaign. A suggested naming format for your HubSpot campaign is Job Number: Type of Asset : [Full name of the campaign].
Within the campaign tool you will be able to add:
Blog posts
Social posts
Calls-to-action
Emails
Landing pages
Static lists
Website pages
Blog posts
Please note: adding assets or content that are already associated with another campaign to a new campaign will remove them from their current campaigns. Only workflows can be associated with multiple campaigns.
Add budget and description
In the upper right-hand side click actions then select edit details.
From here you will be able to add your campaign budget and add notes about the campaign. Once you have filled in the boxes click save.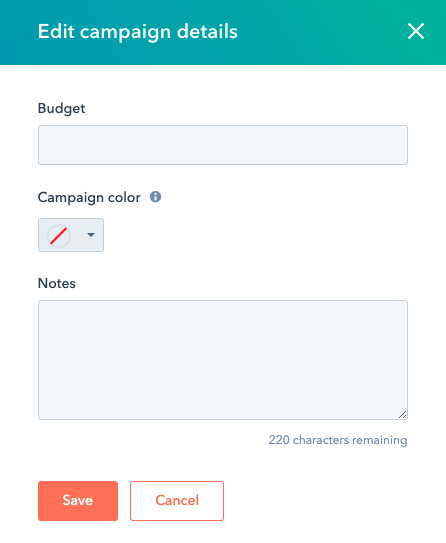 Add goals
In the upper right-hand side click actions then select edit goals.
From here you can add your numerical goals for:
Sessions
New Contacts
Influenced Contacts
Closed Deals
Influenced Revenue
After you have filled out this section then click save