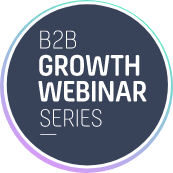 B2B Growth Webinar Series
Welcome to BBD Boom's B2B Growth Series. This page is dedicated to showcasing our popular webinar series, where we sit down with industry experts to discuss new technology, strategies, and actionable insights you can take away and start implementing today.
Scroll through our collection below to watch previews of each webinar, and click the "Watch Now" button to watch the entire thing. Happy watching!