As one of the world's leaders in real-time meeting technology, Lumi needed a website that would generate leads, engage their audience and help set the tone for the service experience they could deliver. However, their existing site wasn't up to the task. By building the site in HubSpot's CMS Hub, BBD Boom was able to not only improve the UX and the cosmetics of the website, but also integrate the site more effectively with the rest of their inbound strategy.


The Challenge
Lumi's business had evolved past what the website could accommodate. For years, the originally product-led company had been creating temporary fixes to accommodate their new role as a solutions provider. This resulted in a website that wasn't truly reflective of their offerings, nor did it help support their extensive inbound marketing strategy and lead generation initiatives.
One of the primary frustrations stemmed from where the website was hosted. Anytime someone wanted to make a change, they had to leave HubSpot, where all the other inbound activity was taking place, and access Kentico via a third party provider. This provider also insisted on hosting the various language versions of Lumi's website under entirely different domains, meaning changes had to be rolled out across all three sites.
The most impactful problem, however, was that web visitors could rarely even tell what Lumi actually did as a business. High bounce rates, low session times, and low conversions confirmed that Lumi's website was not serving its intended purpose: to engage and convert the right leads so that they could enter the inbound machine Lumi had ready and waiting within HubSpot.


The Solution
Their previous web provider ultimately did not live up to the functionality needed for a transnational corporation. Luckily, HubSpot CMS Hub Professional was more than up to the task. Given that the client was already an avid HubSpot user, the decision to build the website in HubSpot was an easy one, as it meant they could better lean into the attract, engage and delight Flywheel methodology.
The process involved a significant strategy and development period that made sure the structure of the website better supported Lumi's brand and their future direction. As standard for any website rebuild, wireframes were developed so that the user experience could be curated, meaning that when designs were produced they properly supported the desired web journey.
BBD Boom collaborated with the client to refresh all website content to better reflect the new structure and messaging. Due to HubSpot's powerful yet user-friendly CMS, the pages could easily include more rich media in the form of photos, videos, and other interactive content. This content could also be easily swapped out using smart content modules to maximise relevance for each individual web visitor. As an additional, innovative element to improve user experience, Boom also chose to use video FAQs on the resource pages to add a human element to an otherwise very technology-driven brand.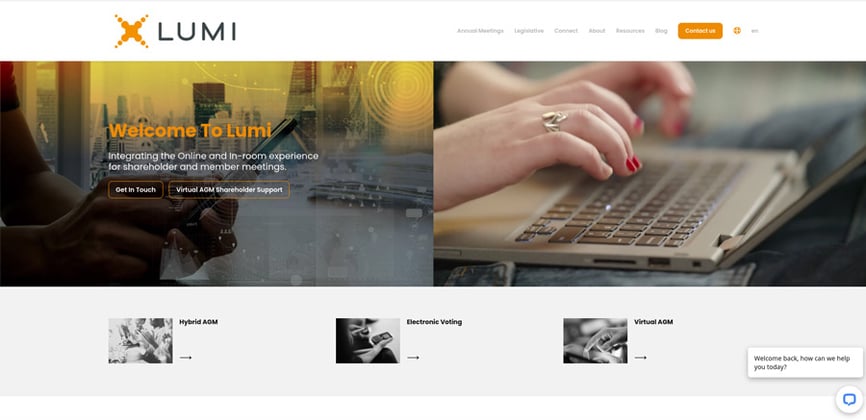 As for the multi-language content, BBD Boom implemented HubSpot's language switcher on the new site, meaning all content was hosted in one central place under one central domain for more efficient site maintenance.
Finally, SEO was a huge priority for Lumi. BBD Boom had been working with them for years to create a powerful inbound strategy, and organic search was a big part of that. So naturally, they wanted to maintain their high rankings during migration, even with the URL changes that would be implemented. Thanks to HubSpot's integrated SEO tools, BBD Boom's expert Solutions Team implemented an effective SEO maintenance plan to ensure that previous work done on SEO did not suffer.


The Results
Like many clients, Lumi needed their new website in place as quickly as possible. Whilst ample time was given to the strategy and development, once it was time to implement the new site, things moved swiftly. Thanks to BBD Boom's expertise and the client's familiarity with HubSpot, the entire implementation, testing, snagging and launch process was complete within two weeks. Contrary to their initial concern, Lumi actually saw an 18 point increase in SEO score, with an increase of 21 referring domains and 184 new backlinks in the time following the launch. Lumi also saw an ever-increasing amount of organic search traffic, leading to a 42% increase in conversions and a 55% increase in monthly inbound revenue.


The Impact
As Lumi used HubSpot religiously for all inbound activity, building the website within the HubSpot CMS now means that the user journeys from campaigns they create seamlessly align to the user journey of the website. This has meant increased conversion rates, more page views per session, and higher user engagement as reflected in their HubSpot score. These improvements have applied globally, not just in English-speaking countries, due to the ease of the language switcher functionality.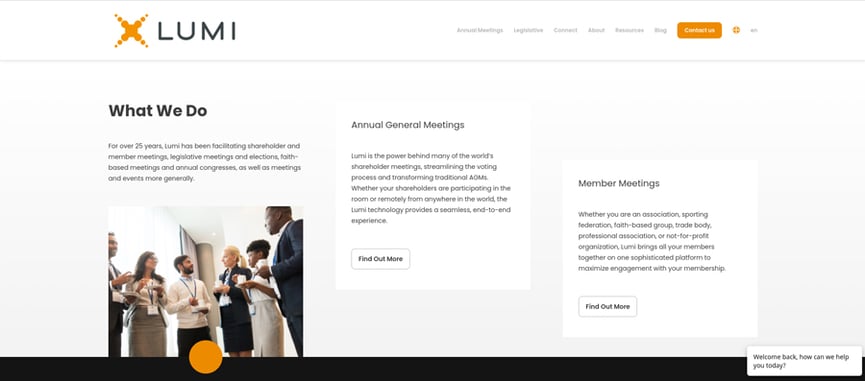 From a user perspective, the website is now far easier to navigate. From a business perspective, Lumi now has a single source of information where they can track and edit different elements of the website all in one place, without having to check disparate data sources or reach out to third parties.
The result exceeded Lumi's expectations, with Lumi's CMO stating:
"Everyone at Lumi loves the new website! It's so much more reflective of our brand and our solutions, the user journey is clearer and more effective, and our SEO is better than it's ever been. Plus, having our website inside HubSpot is vital to the future success of our inbound strategy."
Before, Lumi's website was tired, dated and doing nothing to serve their overall inbound strategies or their audience. Now, they have a highly engaging and effective site that reflects the current and future reality of their business. Intuitive user journeys, better integration and greater discoverability have made the new website a clear success for everyone involved. HubSpot's CMS has been transformational for Lumi. Here's what CMO, Kerry, had to say about it: